Memories.
This coronavirus crisis has given me a lot of time to explore my food (and other) memories. I imagine you have done a lot of that, too.
On a lazy afternoon recently, I asked myself where I would most like to revisit (and dine) if I had unlimited options. I settled upon a world trip that would take me back to Cairo (Egypt), Berenty Lemur Preserve ( Madagascar),  Srinagar (Kashmir, India), Yangon (Myanmar), the Galapagos Islands (Ecuador)  and Istanbul (Turkey). Whew! That would be some wonderful itinerary! And, just think of the food.
Considering that itinerary, one of my fondest food memories is the restaurant in a magical hotel in the heart of Istanbul, the Pera Palas. Built in the 1892, the hotel served as the eastern terminus for travelers on the Orient Express. Luminaries like Ataturk, Agatha Christie and Ernest Hemingway slept there. I wrote about the hotel in 2015 when I posted a baklava recipe. You can find the post here if you would like to read more about the hotel. (The baklava recipe is pretty spectacular, too.) Clearly, I was pining for the Russian salad even then. Now, five years later, I've tweaked  a recipe that is pretty spot on for the Pera Palas' dish-of-my-dreams.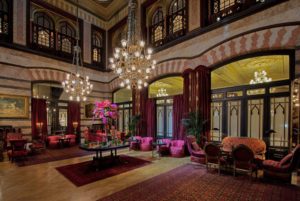 This salad is a traditional New Year's dish for Russians. It's origins can be traced back to a Belgian chef, Lucien Olivier, who operated a popular restaurant in Moscow in the 19th Century. That restaurant, The Hermitage, became the place to dine and enjoy the house's signature salad, aptly named the Olivier salad.  Olivier struggled to keep the salad recipe secret. His salad featured black caviar, capers, game hens and potatoes as key ingredients and was dressed in a creamy "Olivier dressing." Recreating the recipe for the dressing became an obsession for restaurant patrons. Reportedly, Olivier's recipe was stolen by his sous chef who was able to analyze Olivier's mise en place one day when the chef stepped away and left his personal kitchen (and recipe) vulnerable. Olivier's supporters, however, always claimed that something was missing in the stolen version. Some said it was Kabul sauce in the dressing. Kabul sauce. Hmmm.
Over the years, the recipe has been recreated in restaurants and households across the world. The Turkish version is called Rus salatsi. That is what we enjoyed at the cavernous Pera Palas dinning room those many years ago.
Here's the recipe adjusted to fit my memories. I have to confess, though, that Instacart let me down. They couldn't find that Kabul sauce. Damn.
Ingredients
1 pound potatoes
2 large carrots
3 large eggs (hard-boiled with the potatoes and peas)
1/2 C. blanched green peas (fresh or frozen, stay away from canned)
1 large red beet
2 t. salt
1 medium red onion (diced)
1/4 to 1/2 C. chopped kosher dill pickles
Fresh Dill (chopped and to your taste)
1/2 C. mayonnaise
Paprika or cayenne pepper (for garnish)
Extra chopped fresh dill (for garnish)
Instructions
In a large pot of boiling water, boil potatoes, carrots and eggs together with 1 teaspoon of salt. The potatoes and carrots don't have to be peeled at this stage. This will take about 15 minutes--a bit more for the potatoes. (Be careful not to over boil the potatoes. You want the potato cubes in your salad to hold their shape.) Set aside to cool so that you can handle the vegetables and eggs to peel. (I speeded up the cooling by putting my boiled vegetables in a bowl of iced water.)
Cook (or defrost) the peas in the same water that you used for the carrots, eggs and potatoes. Remove from hot water, drain and set aside. Be careful not to overcook the peas. You want them to be firm and beautiful in the salad presentation.
Wrap a large red beet in foil and bake in the oven at 350 degrees until the beet is easy to slice. This will take about 45 minutes. Use a paring knife to stick into the beet to be sure it is baked through.
Peel the cooled hard boiled eggs. Peel the potatoes and the carrots. Cut everything into small cubes. Set aside.
Peel the cooled red beet. Slice into thin slices. Set aside.
Using a large mixing bowl, mix potatoes, carrots, eggs, peas, onion, chopped dill pickles, chopped and fresh dill together. Add the mayonnaise and mix well. Season with salt to your taste.
Arrange the salad decoratively on serving plates or serve in a large bowl. I used the beets as the foundation for the salad by arranging the beets in a pattern on the plate and tucking them tightly around the base of the salad. If I were to serve this salad in a large bowl, I would boil an extra egg and use egg slices and beet slices to decorate the bowl of salad. Alternatively, you can mix the beets into your salad but you will have a less attractive pink-colored salad.
I sprinkled a bit of paprika on the finished dish, but I think a sprinkle of cayenne pepper would be great too. I scattered more chopped fresh dill on top of the salad and I decorated the final dish with a sprig of dill.
7.8.1.2
230
http://bluecayenne.com/russian-salad
I looked at a lot of different Russian salad recipes for inspiration. Most recently, I was inspired by this recipe: Ensalada Rusa.