There's a little history lesson with this post.
French kings lived in St. Germain-en-Laye on the outskirts of Paris prior to a transfer of power to Versailles in 1682. St. Germain was renowned for its beauty and its gardens. The last French king to live there was Louis XIV (before he upgraded to Versailles)  and it was for his royal table that an elegant fresh pea soup, Potage St. Germain, was developed. Traditionally, the soup was made with fresh peas, lettuce, and other herbs.
French kings knew how to dine. In a tradition that dated back to the Middle Ages, the king, his family and "worthy" members of the court participated in a ritualistic evening meal, le grand couvert, each evening at ten.
During these nightly dining spectaculars, the king and his family were seated at an elaborately decorated table while dozens of invited court members mostly stood around the table and watched them eat. How uncomfortable does that sound?
(You might remember from your history classes that this was the Louis who billed himself "the sun king." The world revolved around him, or so he believed. Thinking that others would be honored to watch him eat must have come naturally. In the modern idiom, we would call that a sense of "privilege.")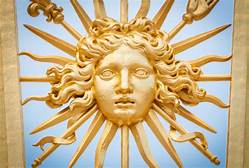 Reportedly, hundreds were involved in the preparation of a typical royal meal and dozens of  guards were involved in a long march from the distant chateau kitchens to the deliver the food (mostly cold by then) to the king's table. Anyone encountered along the way was expected to bow to the king's food.
The meal started when the king took his first bite and it ended when he was sated. (I've read that this bit of antiquated etiquette still prevails at formal dinners in Elizabeth II's court.)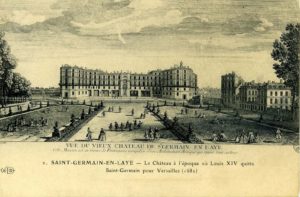 This soup is a variation on the traditional recipe. Fresh mint stands in for the lettuce.
It is a lovely soup–rich and comforting and adaptable. If your access to fresh peas is limited right now, frozen peas work just fine. That is what I used in my soup.
By the way, Louis XIV was known for his love of soup–often eating four bowls at a sitting. Feel free to eat this soup to your heart's content–with or without spectators.
Ingredients
2 T. unsalted butter
2 C. chopped leeks (white and light green parts--about 2 leeks)
1 C. chopped yellow onion
4 C. vegetable broth
5 C. freshly-shelled peas or 2 (10 ounce) packages frozen peas
2/3 C. chopped mint leaves (loosely packed)
2 t. kosher salt
1/2 t. freshly-ground black pepper
1/2 C. sour cream or creme fraiche
1/2 C. freshly chopped chives
Extra milk or half and half to thin down the finished soup (optional)
Garlic croutons, chopped chives, extra sour cream or creme fraiche, chopped cilantro, cayenne pepper, or grated parmesan for garnish (optional)
Instructions
Melt butter in a large soup pot. Saute leeks and onions in the hot butter over medium-low heat until the onions are tender. This will take 5 to 10 minutes.
Add the vegetable broth and bring the mixture to a boil. Add the peas and cook for 3 to 5 minutes until the peas are tender. I used frozen peas and it took about 3 minutes to cook the peas.
Remove the soup pot from the heat and stir in the chopped mint leaves, salt and pepper.
Puree the soup.
Whisk in sour cream or creme fraiche.
Stir in the chopped chives. Taste for seasoning. Serve garnished with garlic croutons, chopped cilantro, cayenne pepper and/or grated parmesan. Swirl in a little sour cream or creme fraiche to decorate the soup.
Cook's Note: I think the subtle flavor of the mint is better in this soup on the second day. Also, this soup is very thick. I used some half and half to thin it to my taste.
7.8.1.2
228
http://bluecayenne.com/fit-for-a-king-fresh-pea-soup
This recipe is adapted from an Ina Garten recipe that appears here.