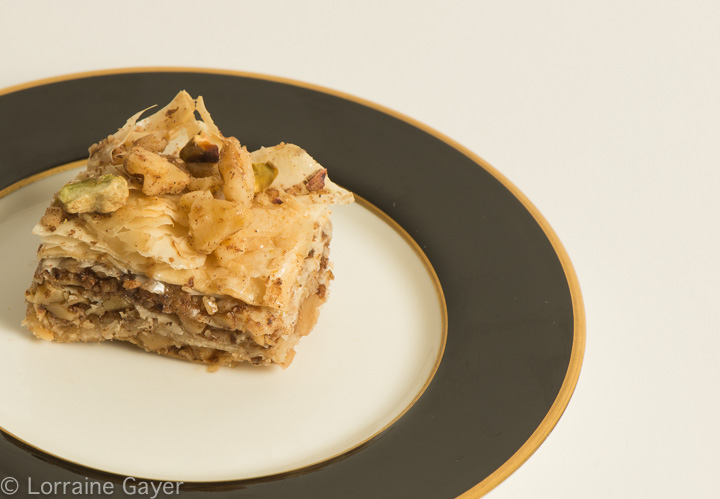 Back in the day, my husband and I were fortunate to travel frequently in Greece and Turkey. We always stayed at the same hotels, the modest Plaza Hotel just off Victoria Square in Athens with its  roof-top view of the Acropolis  and the magnificent old Pera Palas Hotel in Istanbul's Beyoglu district. Over the years, we made friends with the staffs in both hotels. Each year, Litsa and George and Tassos and Bey welcomed us back like family.  I remember our having to fib to our hotel friends about our destinations when we traveled between the two countries. For historical reasons, there was no love lost between Greece and Turkey, so we always insisted that we were off to visit the Adriatic beaches of Yugoslavia.
Food is one of my fond memories of those wonderful trips. We had a favorite Athens restaurant near our hotel, the rustic Tria Adelphia. Few ate dinner before 10 p.m. in Athens which meant that we were always starving by dinner time there. At Tria Adelphia, it was the custom to walk straight to the kitchen when you entered the restaurant. Language was never an issue. You simply pointed to what you wanted and went back to your table to wait for your feast while you either enjoyed a Fix beer or sipped a glass of potent retsina wine.
The Pera Palas Hotel couldn't have been more different. Where Athens' Plaza Hotel was spartan, the Pera Palas Hotel was elegant with a capital E. Opened in 1892, the exterior of the hotel was  neo-classical but the interior decoration was a glorious mixture of  art-nouveau and oriental. There were huge and beautiful public rooms on the first floor and an elaborate filigreed elevator that struggled to lift you to your room on the upper floors. Bey, the man who operated the elevator, proudly wore an immaculate green and red wool uniform with a proper round green hat with elaborate red piping. He was a delightful man and always greeted us by name (and sometimes a hug) even if our language barrier didn't let us get much beyond that.
Back on the ground floor, there was a dark and wonderful bar where you could sit for hours and nurse an Efes beer under the cranky whir of an ornate ceiling fan. The Pera Palas was once the place passengers on Europe's storied Orient Express stayed. Agatha Christie was among the hotel's regular guests. Sitting in that bar was truly like a step back in history. It took no stretch of the imagination to visualize Hercule Poirot sitting fussily in a corner of the dark bar.
The dining room at the Pera Palas was a cavernous all-white room with windows opened to the breezes and sounds from the Golden Horn. Before being taken to your table in the dining room, you were seated for a drink in an elegant, high-ceilinged  lounge. The room was furnished with  finely-woven red and sapphire-colored oriental rugs and antique Ottoman furniture and had intricately-inlaid wood floors.  I remember long wonderful meals in that dining room. They served a Russian salad that I always ordered and will never forget and a pureed eggplant dish that was nothing if not ethereal. (By the way, the old Pera Palas, for better or worse, has been rehabbed and is now a luxury Istanbul destination. Here is the link to their site. I'm glad to be able to say that they preserved a good deal of the wonder of those magnificent first-floor public rooms that we so enjoyed. The current owners bill the Pera Palas as a museum-hotel. Take a look. Here is the link: Pera Palas Hoteli)
And the baklava…  Oh! the baklava. Both countries claimed the dessert as their own as they did many other common dishes. Served warm from the oven and dripping with honey, nothing could have been better.
Here is my take on this wonderful dessert.
Recipe: Baklava
1 16-oz. package of phyllo dough
1 pound chopped walnuts
1 C. unsalted butter
1 t. ground cinnamon
1 C. water
1 C. white sugar
1 t. vanilla extract
1/2 C. honey
1/2 C. pistachio nuts
Directions:
Preheat oven to 350 degrees F. Defrost phyllo dough (if frozen). Generously butter large pan. The original recipe calls for  9 by 13 inch pan but I use a very large oval pan to make my baklava.
Chop walnuts into medium pieces. (Use your food processor to chop nuts.)  Sprinkle 1 generous teaspoon of cinnamon over chopped walnuts and mix.
Melt 1 C. of butter and let it cool down to warm.
Open box of phyllo dough and lay phyllo leaves flat on your counter. Phyllo dries out quickly, so you need to cover your phyllo with a lightly-damp towel.
Place a sheet of phyllo in your buttered pan. Generously brush butter on the phyllo. Don't be worried if phyllo rips in a few places. The dough is fragile but after cooking you won't notice the rips. Repeat layerng of phyllo into the pan until you have layered (and buttered) eight sheets. My large pan takes two sheets to create one layer. Continue to position layers of phyllo into the pan, buttering each sheet. After you have put in the first eight sheets, sprinkle each layer of phyllo with 2-3 tablespoons of chopped nuts. When you get down to the last layers of your phyllo dough, place six buttered layers on the top of your baklava. Finally, fold the layers of filo that extend over the edge of the pan toward the middle of the pan. Brush the final baklava filo package liberally with butter.
Use a very sharp knife to cut your uncooked pan of baklava into diamond (or square) shapes.
Bake at 350 degrees F. for about 50 minutes. Baklava should be a light golden color and should be crisp when it is done.
While the baklava is baking, prepare your sauce. Mix 1 C sugar and 1 C. water in a saucepan. Boil until sugar is dissolved. Add 1 t. vanilla extract, and 1/2 C. honey to the saucepan. Simmer this mixture for about 20 minutes.
Once the baklava is finished baking, remove it from the oven and immediately pour the sugar-honey mixture over the baklava. You will hear a sizzling sound as the crisp phyllo begins to absorb the liquid. Try to distribute the liquid evenly across the baklava. Let baklava cool.
Do not cover the baklava. It will get soggy.