For Julia Child it was Coq Au Vin.
Marcella Hazan's tour de force was her amazing Tomato Sauce.
Chez Panisse's Alice Waters rocked the culinary world with her Baked Goat Cheese With Baby Lettuces.
"A signature dish is a recipe that identifies an individual chef or restaurant. Ideally it should be unique and allow an informed gastronome to name the chef in a blind tasting. It can be thought of as the culinary equivalent of an artist finding their own style, or an author finding their own voice," according to Wikipedia.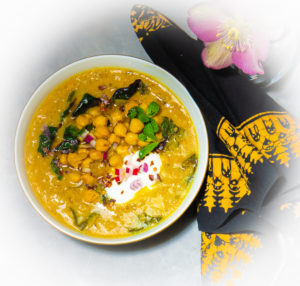 This delightful (and delicious) Spiced Chickpea Stew With Coconut and Turmeric is Alison Roman's signature dish. Roman (pictured below demonstrating her impressive refrigerator storage skills–skills that, lamentably, she and I share)  writes for the New York Times food page and is the author of the excellent cookbook Nothing Fancy. As I write this, her recipe has a five-star rating on the New York Times food page with 8644 hits. That means that a whole lot of people love this dish–me included.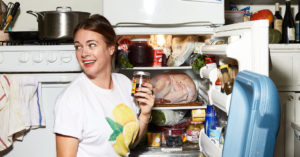 Here is the recipe.
Spiced Chickpea Stew With Coconut and Turmeric
February 1, 2020
: 4 to 6
Ingredients
1/4 C. olive oil
4 garlic cloves (chopped)
1 large yellow onion (chopped)
1 two-inch piece ginger (finely chopped)
Kosher salt and black pepper
1 1/2 t. ground turmeric
1 t. red-pepper flakes (or to your taste)
2 fifteen-ounce cans chickpeas (drained and rinsed)
2 fifteen-ounce cans full-fat coconut milk
2 C. vegetable stock
1 bunch Swiss chard (or kale or spinach--stems removed and cut into bite-sized pieces)
1 C. mint leaves (for garnish)
Yogurt (for garnish)
Chopped Red Onion (for garnish)
Directions
Step 1

Heat olive oil in a large soup pot and saute garlic, onion and ginger in the hot oil until the vegetables are translucent and beginning to brown. Add salt and pepper to taste.

Step 2

Add turmeric, red-pepper flakes and drained and rinsed chickpeas. This is a spicy stew. You can reduce the amount of red pepper flakes you use if you want to tone down the heat.  Cook until the chickpeas begin to break down and become a bit crisp. This will take 8 to 10 minutes. (Remove one cup of the cooked chickpeas to use as a garnish when you serve the stew and set aside.)

Step 3

Crush some of the chickpeas in the pot using either a wooden spoon or an immersion blender. You want to do this so that the stew will thicken as you cook it down.

Step 4

Add coconut milk and vegetable stock to the pot. Your stew will be very liquid at this point. You need to trust that it will thicken as it cools down. Season with salt and pepper. Bring the stew to a simmer and cook, stirring occasionally, until the stew is thickened. This will take 30 to 35 minutes. You can cook your stew longer if you need to thicken it more.

Step 5

Add chard to the soup. Cook briefly until the chard softens. This step should only take 3 to 7 minutes.

Step 6

Taste for seasoning. Serve garnished with yogurt, reserved chickpeas, mint leaves, etc.
This recipe is adapted from a New York Times recipe that appears here.